This show is set at Honn0ji Academy, a fictional high school in post-apocalyptic Japan that is dominated by its fearsome student council, led by Satsuki Kiryuin. The council members wear special uniforms called Goku Uniforms that grant them superhuman abilities, which they use to oppress the rest of the school's students and staff.
10103 users added this.

It is a comedy about a school that segregates students based on how well they do academically, with the class with the smartest students in class A, the dumbest in class F. The students can compete for each others classrooms by having summoning wars, with the hp of their summoned beings being determined by their scores.
1571 users added this.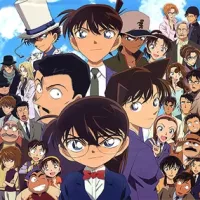 Case Closed, also known as Meitantei Conan (Detective Conan), is a Japanese detective manga series written and illustrated by Gosho Aoyama and is serialized in Weekly Shonen Sunday since 1994. The name "Case Closed" for the English language release results from "unspecified legal considerations" of the name Detective Conan.
2569 users added this.