Madoka Kaname used to be a normal girl living happy days of her life. This all ended when she sacrificed herself in order to save other magical girls from the utterly cruel fate that awaited them.
890 users added this.
Beloved family, good friends, laughter and tears - these things make up the ordinary life of Kaname Madoka, a second year student of Mitakihara City Middle School. One night, Madoka dreams of a mysterious dark haired girl struggling against a terrible evil; the next morning she discovers that the girl, Akemi Homura, has transferred into her class.
5940 users added this.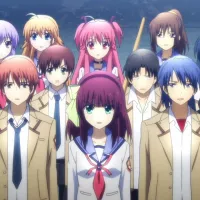 Angel Beats! takes place in an afterlife high school, which acts as limbo for teenagers who have died and experienced traumas or hardships during their lifetime.
13622 users added this.
Right after starting middle school, Akari Akaza joins the Amusement Club which is composed solely by her two childhood friends, Kyouko Toshinou and Yui Funami. Chinatsu Yoshikawa, Akaza's classmate, becomes a member after finding out about the dissolution of the Tea Club.
886 users added this.
This show follows three siblings, twins Kanba and Shouma, and Himari who's in poor health and constantly going to the hospital, living together at the Takakura home. One day, when the siblings are out on a trip to the aquarium, Himari collapses.
210 users added this.
The story focuses on the world of illegal Japanese street racing, where all the action is concentrated in the mountain passes and rarely in cities nor urban areas, and the drift racing style is emphasized in particular. Keiichi Tsuchiya helps with editorial supervision.
1215 users added this.
The bee apparition is now gone, and summer vacation where the phoenix apparition averted harm is over. Around Koyomi Araragi and the girls who started a new trimester, apparitions, or perhaps threats even worse, were creeping in ever closer.
782 users added this.
Third-year high school student Koyomi Araragi barely survives a vampire attack, thanks to the help of Meme Oshino, a strange man who lives in an abandoned building. Despite being able to save his humanity, several powers from vampirism remained in his body as side effects.
4766 users added this.