Anime Database

High school girl Mitsuha lives in the town of Itomori in Japan's mountainous Hida region. Bored, she wishes to be a handsome boy in her next life.
461 users added this.
When high school student Haruka Shinozaki confesses his feelings to the beautiful and aloof class representative, Akiho Kosaka, the last thing he expected was for her to say "yes." Like everything else in her diligent life, Kosaka takes dating quite seriously.
451 users added this.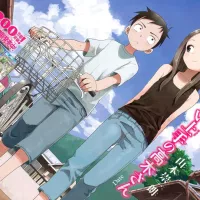 Nishikata is a middle school student who has suffered humiliation due to being teased by Takagi, the girl who sits next to him. Since then, he has vowed to one day do the same to her and succeed in teasing her.
507 users added this.
Akira Tachibana, a reserved high school student and former track runner, has not been able to race the same as she used to since she experienced a severe foot injury. And although she is regarded as attractive by her classmates, she is not interested in the boys around school.
173 users added this.

After discovering that they work at the same company, a gaming crazed otaku and a fujoshi reunite for the first time since middle school. After some post-work drinking sessions they begin dating, but will it be a perfect relationship for the two of them?
629 users added this.